after few hours from now, my brother will be celebrating his birthday. Fadi was born on the 5th of august, 19 years ago. it will take me ages to say everything. i remember him when he was little, i remember our playing together, even our fights.
all i can say is that he is a source of joy even when i'm very angry with him, he manages to make me smile after all and that i'm glad he is my brother.
if you didn't meet him yet, you don't know what you are missing and if you have met him already, i guess i don't have something to add about him.
so HAPPY BIRTHDAY my little brother ;)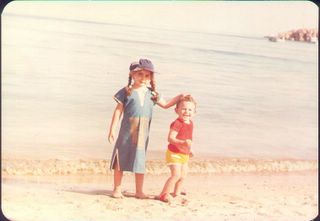 years ago, at sharm el sheikh. (u can see that once i was taller than him.. lol)